Discussion Starter
·
#1
·
Yep, sure did. Pulled the frame on Project off my nut.
The frame came out really easy. Alot easier than I actually thought. The donut spare is no longer rubbing the a-pillar, it's about 4 inches away now. The car hit right at the mounting plate for the sway bar mounts. The frame was down and side swayed. The left rail was out too. All points are within specs. It's like the frame was never bent. Never mind the rad support, it's getting replaced. A few little fine details to work out and some paint.
IT'S COMING BACK TO LIFE!
Slowly, but it's getting there. Sorry, I forgot the camera to get some action shoots.
The before pic, when I got it. I had more, but lost them when the old computer crashed.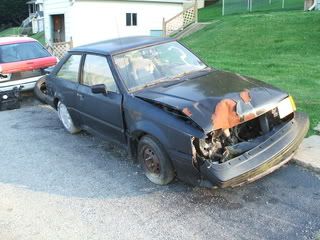 Today's after pictures