Discussion Starter
·
#1
·
Let's start Thursday night. I went into the recesses of my parts carvern looking for some parts to finish putting my gt together. I looked thru what headlights I have and pick a couple out.
I brought out a right and two lefts. One left had a great lens but cracked mounting panel. The other, well, had a good mounting panel. So I decided just to swap the good housing to the good mount panel. Now, while in the process of switching housings, I thought, self, what are you going to do when you run out of descent lenses? So I decided to try an experiment. Here it goes.
Taking the crappy lens I just swapped out, I started with a heat gun and heated up the edge of the lens. Once warm enough, I carefully pried and the lens popped off from the housing.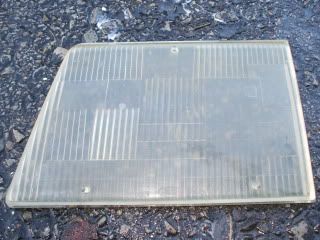 Once off, I used some 0000 steel wool and scrubbed the inside of the lens. Then I went over that with some rubbing compound until the steel wool scratch was gone. Turning attention now the outside, I satrted by first grinding the aiming tips off, leaving just a slight bump. Then using a DA and 120, I sanded the bumps flat and removed the lettering. I switched over to 320 and gave the whole outer lens a very good sanding. I even sanded out some stone chips.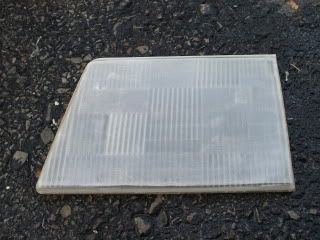 Now the wet sanding. I started with 400, then to 600. I went 1200, 1500, 2000, and finally 3000, working each piece over the lens for about a minute each, back and forth in both directions.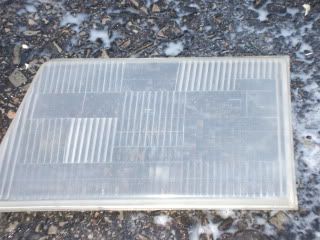 Using a small air buffer, I applied some rubbing compound and buffed away until a nice clear scratch free surface appeared. Then I used some polishing compound in the same manner.
I used some compound by hand to clean up the chrome inside the housing. Used some glass cleaner and cleaned all surfaces that you won't be able to get to later, and made sure all traces of the compound were gone, including the ridges on the inside of the lens. Using some clear adhesive, I replaced the lens to the housing.
Now I guess I have to switch the lights back over. And do the one for the right side too. DAMN!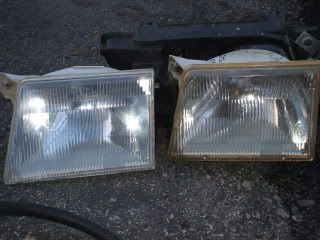 So what's everyone think?