Discussion Starter
·
#1
·
Ok, here is my write-up on how to swap a Zetec engine into a 1st Gen Escort, EXP, or I guess a Tempo, if that's what you're into.
The way I did this keeps the original transmission, which makes the swap a whole lot easier and cheaper. I used a Zetec from a 98 ZX2, but other Zetecs should be similar. This is not the easiest swap out there, but not the hardest either. You will need to weld, and things like an engine lift will come in handy, but other than that it's mostly normal hand tools. With this write-up and some smart shopping, I'm confidant this could be done in under a month with $1000. Trying to figure it out on my own a little at a time took more like a year and $2500. Yeah, I'm not too smart.
Note: While the Zetec bolts right to the MTX-III transmission, there are some gaps that should be sealed by making a plate to put between engine and transmission. I still have to do that.
Here is what you'll need:
Zetec Engine (I used one from a 98 zx2)
-all accessories like the alternator, power steering pump, etc.
-flywheel bolts (the reason I had to wait an extra month to drop my engine in)
95-97 Contour Zetec fuel rail
Contour Zetec power steering pressure hose
MegaSquirt 2 or other standalone engine management system
-EDIS 4 module
-SPI crank pulley, or modified Zetec pulley with crank trigger on it
-VR sensor
Radiator fan
Universal heater hoses
Radiator hoses (more on this later)
Accessory belt (Summit has them in many lengths)
What you need to keep from the 1.9HO engine, I'm not sure what's different on the other engines:
Oil pan/pick-up tube
Dip Stick
Starter
Flywheel
Clutch
Passenger side "front" engine mount
Ok, we're going to start with what needs to be modified on the engine itself.
Oil Pan
The Zetec uses the same bolt pattern for its oil pan as the CVH engines, so it would just bolt on, except that the oil pump is in the way. I ground on my oil pan and oil pump until they stopped arguing, but there may be a better way to solve the problem. I was recently looking at the contour oil pan, and it seems to be made of stamped steel, as opposed to the zx2's crazy two-piece aluminum/steel thing. So it would bolt on and clear the oil pump. Then with some careful work with a hammer and/or a welder, it could work with the starter. Whatever you use, you'll need the proper pick-up tube to go with it. Also, thanks to ford's block design recycling, there is a hole in the Zetec block with a freeze plug in it where the dip stick fits perfectly.
Fuel Rail
The contour fuel rail is needed because it uses a return style fuel system, unlike the zx2. All you need to hook it up to the stock fuel system is some various connectors you can get at any auto parts stores.
Flywheel
The Zetec flywheel has holes for the crank position sensor in it, so the flywheel has to only bolt on one way. To do this, one or two of the bolt holes are unequally spaced. Unfortunately, the Zetec flywheel is the wrong size, so the original flywheel/clutch is used. This means the bolt holes have to be drilled or filed slightly to get them to line up. Don't forget the Zetec flywheel bolts, the original ones are the wrong size.
Crank Trigger
Because the crank trigger is on the flywheel of the Zetec, now you need to find a different place for a crank trigger. The second and third generation escorts with the CVH engines have the trigger on their crank pulleys. They will bolt right on, but stick out a bit too far, so the back side has to be ground down. You could also put a crank trigger ring on the stock Zetec crank pulley. I mounted my VR sensor on a custom bracket coming off the bottom of the alternator mount.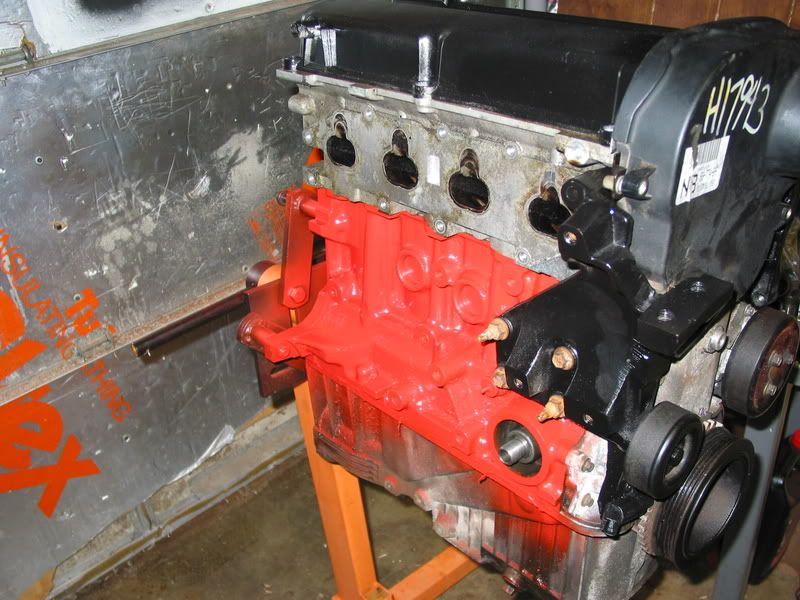 Accessories/Belt
The ZX2 alternator and power steering pump will fit fine. The A/C could work, but it didn't seem worth it to me. Depending on what accessories you want, the belt can be routed different ways, and some idlers pulleys can be moved or swapped. Just make sure the water pump is always going the right way. The length for my belt was 61" for p/s, but no a/c.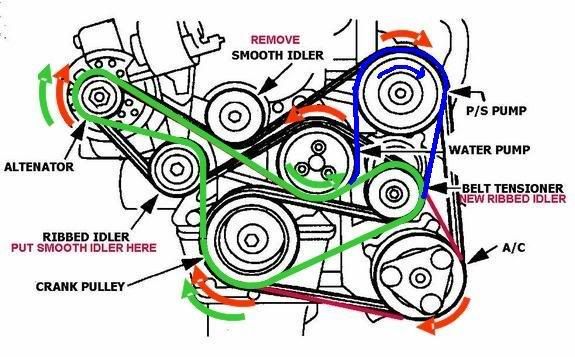 And now for everything else:
Exhaust
For a manifold, I used the header from my GT with the flange cut off, and then the flange from the Zetec manifold welded on. I don't know how well this will last in the long run, but Zetec headers should fit with minimal issues. I also welded up the holes from all the EGR tubes, making this swap of questionable legality.
Engine Mount
I used the original engine mount and some plate steel to make a sturdy mount. I also had to drill and re-tap the holes on the Zetec side of the mount because no one sells grade-8 metric bolts around here.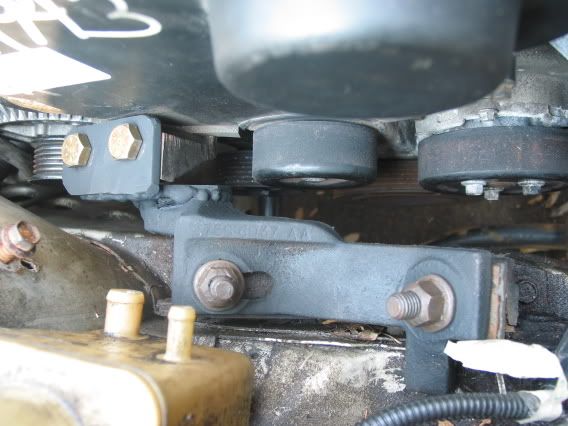 Intake
For the intake, you can pretty much do whatever you want. I used some universal pieces from PepBoys and sent the intake through the firewall into the space next to the (shortened) washer fluid bottle. This gives it quite a growl, and it's actually quite a bit louder than the exhaust. I also used part of a plastic bin to make a shield over the filter.
Hoses/Cooling
For power steering I used a pressure hose from a Contour, which may or may not be the same as one from a zx2. It needed some sections bent a bit to get it to fit right, but it's mostly right. For the hose from the reservoir to the pump, I used some heater hose. I left the original radiator in place, but with an eBay 14" fan on it, because the original was just huge, and the motor barely cleared something, I don't remember what though (it's been a long year). For coolant I used the stock hoses with some various copper pipe sections to make everything fit right. For heater hoses I just used universal heater hose and a few hard sections I had laying around.
Wiring
For wiring and engine management, I'm just going to direct you to
http://www.megasquirt.info/
because they can tell you what you'd need a lot better than I can. Note: The VCT actuator on the zx2 engine can just be left unplugged, because it acts like a regular cam when unplugged.
Some other things you can try that I didn't do would be swap in the zx2 or another radiator. That might make the hoses a little simpler. You can also try the contour oil pan. While I'm on the subject, in retrospect, a Zetec from a contour may have been a better place to start. It doesn't use VTC, it has a bunch of the right parts already, and it's probably cheaper. You can also try one from a focus, but the accessories are all different. You could also swap in a whole engine/transmission, but that would likely double the cost and quadruple the fabrication.