Discussion Starter
·
#1
·
Been a while since I posted but I have an emergency!!!
Started the car one morning and it made a terrible noise. I shut the car off and let it sit. Pushed it up to the driveway and pulled the head and #4 pistion is all chewed up. I know,
DROPPED VALVE SEAT!
My question, is the piston to far gone just to put a rebuilt head on it? I can get a rebuilt head for $275 with the new style valve seats
Here are some pics of the piston top. The cylinder wall has no marks or scratches on it at all. (click for full size - 56K warning)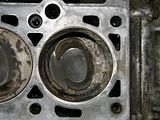 .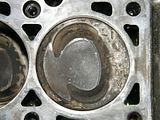 .