m0nk said:

I'm guessing the top of line there is the stage 2 6 paddle sprung hub clutch. Is that what I want? What is the difference between the sprung hub and the solid hub? Is there really a big difference between 4 and 6 paddle clutches? Wtf is a paddle?

Edit: Oh, and I forgot, my girlfriend wants me to follow her to college to move some stuff into our apartment tomorrow. She's moving in Monday and I'll be moving over there in a few months. It's about 700 miles round trip, would it be ok for me to drive that far on a bad clutch? Or does something like that not really matter?
Use the handbrake next time to keep yourself from rolling back until you're ready to go, and you feel the clutch just starting to grab.
Those top of the line clutches are not meant for stock engines.. they're made for really high HP engines where boost and nitrous power can overpower the friction of a stock clutch. A stock clutch is a nearly solid disk.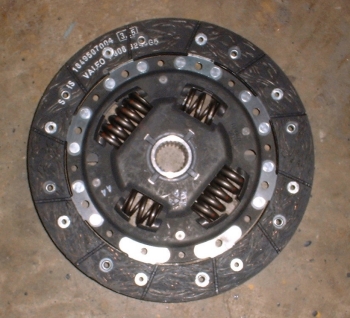 A 6 paddle clutch will look like this:
And a 4 paddle, like this:
The less friction material you use, the stronger they hold, but the more harshly they engage. The less the clutch disk weighs, the easier fast shifts will be on the transmission (since the syncros won't let you slip the tranny into another gear until the input shaft and the clutch disc are spinning at the correct speed) A 4 or 3 paddle ('puck') clutch will engage like an on/off switch.. you either stall or the car will jump forward. These are not good for the street.
A 6 puck is a reasonable alternative. Unless you're planning on seriously adding some more power to your scort.. a stage 1 upgrade should be all you'd need.
Edit: Almost forgot.. You can see the sprung hubs on the first two pics.. and the solid hub on the other. The springs help to reduce driveline stress when you drop the clutch. Except for racing applications where a grenade motor & tranny are expected to last through a few races before a rebuild, you want a sprung hub.
As for the long trip.. does your clutch actually slip right now? You won't notice the slipping as much in the lower gears. Cruise down the road in 5th and accelerate for a bit. If it isn't slipping in 5th gear, your clutch may not be all that bad. You can burn up a little of the clutch (enough to smell it).. glaze the compound, and still have plenty left.