Discussion Starter
·
#1
·
only for 3-4 seconds at a time... doesn't matter if i give it gas or not.
wned:
I tried playing around with the VAF gear, and actually by feeding it a little gas in the beginning and letting it go, it idled on its own for like 30 seconds(while i celebrated) until I gave it gas again and it died. I couldn't repeat this.... only happened once out of about 3 dozen trials with different gear settings on the VAF. I even tried putting the VAF back to where I got it to idle and couldn't do it again.
Looking at this diagram, I don't have my vacuum lines exactly right. Some I just plugged off. I'll explain in detail.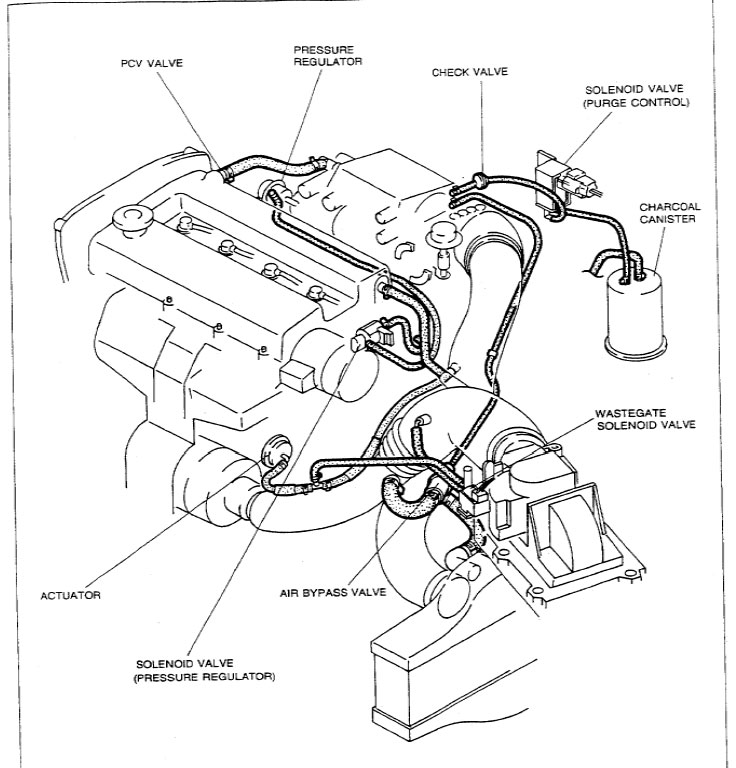 If I don't mention it, I have it.
We'll start with the lines coming off the wastegate. I have the boost sensor line.... but I don't have the one that comes off the top of the 'T' and goes to the 'Wastegate solenoid valve.' The reason I don't have it is because I don't have a nipple for the return line in the inlet pipe. Is this line required for it to run?
Also, the line in this picture:
I have it connected to the inlet pipe.. after the VAF.. where the stock BOV used to be. Charles mentions that he has it there and it works okay so I don't think this *should* be a problem
Lastly, in regards to the purge control solenoid valve, I had to splice the connector off my old harness to the GTX harness. I think the purge controllers are different... the BP has a male connector while the stock GTX I think is probably female. I checked and there wasn't a plug anywhere near it... the one that was was male and the connector on the purcge conrol was male with the GTX harness..... I also dont have that 'check valve' near the intake manifold. Whatever that is.
Would any of these potentially keep my car from running for more than a few seconds at a time?
It sounds great when it is running... I can rev and it revvs beautifully.... I just can't keep it running.
Anyone have a clue as to what might be wrong here? computer?(how would I know?)
thanks