Discussion Starter
·
#1
·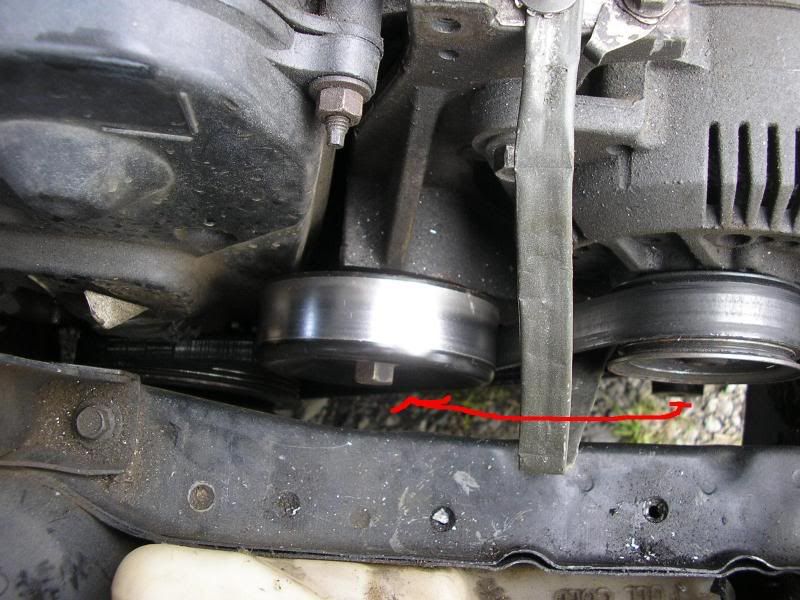 Ok, heres what i did on my Race Car.
Belt was from Advance Auto Parts- At my store the last numbers were 397, think it is 39.7 inches long...? Just make sure the alternator and the pully are tight, and make sure the belt is aligned with the crank and alt. pully, and make it be on the ribs closest to the alt. and crank pullys(see pic)
1-Pull the power steering, A/C, Tensioner and Bottom Pully off the aluminum mount. Might need to remove the rad and hoses if you need to pull the whole mount off the motor. 2-Make a loop for the PS( I cut and flared the lines and clamped them with a piece of transmission line).3- With the a/c pull it off, get rid of the lines and if you want, pull the whole thing out from under the dash. 4- Take the pully from the bottom and put it where the tensioner was(see pic) use washers and make sure its in the bearing (i guess you would call it) and make sure it spins freely(it should be blue in the middle of it. 5- put it together and make sure it works!
Good luck, i noticed it pulled a lot harder and didnt push after i did it. All you need to do is get the pressures right and go.
Ill try to get more pics to better explain it all.